About
Cuddles the Clown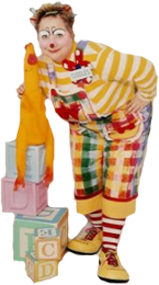 Cuddles the Clown has been clowning for over 20+ years, and full time for the last seventeen. She has trained and worked with many famous clowns throughout the United States. Some of them have been inducted into the International Clown Hall of Fame.

Her talents include clown magic, fantastic, beautiful, and incredible face painting, and awesome balloon sculptures .

Since attending the International Face Painting Convention, Cuddle's face painting has evolved into artistic masterpieces, from partial to full face, arms, or hands. She has also studied with Olivier from Belgium, the Wolfe Brothers, Jinny, and attended the Face Painting Convention in Telford, England.

Cuddles teaches face painting, costuming, make-up, easy to make magic, and give-away prizes to other clowns throughout the United States at various conventions, seminars and conferences. She has been regularly teaching balloon sculpting and the Clown Arts to elementary schools.

Cuddles has developed a series of sight gags, stories and skits using the rubber chicken. This has also evolved into a series of lectures and demonstrations. One of the most notable performances has been at the Great Milwaukee Circus Parade Grounds Clown Tent. Lectures have been given at many conventions from the Midwest Clown Association to the Western Region Clown Association in Laughlin, Nevada.

In June 2005, Cuddles attended Clown Camp in Nagoya, Japan and performed at the World Expo in Aichi, Japan!
---
Billy Boy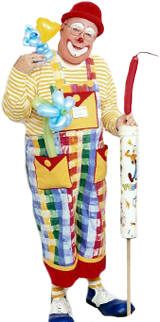 Billy Boy started out with an interest in Clowning many years ago, but only had a chance to fulfill the dream through another clown he was working with in 1989. She brought him to a meeting of Cousin Otto's Clown Alley and got him started. Next was a weekend Clown Encounter sponsored by the Clown Hall of Fame. A face as a hobo was created and a costume was assembled. It would be another year before having a real costume and shoes. With the help of other clowns in the alley, a character evolved into Boxcar Billy the Tramp.

As Billy was learning clowning he was also active in the American Legion and The Forty and Eight Society Child Welfare Committees. His clowning was put to use in parades, veteran's hospital visits and children's parties. He was part of a group that formed for the purpose of entertaining children at the National conventions of the Forty and Eight. At their first and second meetings, Billy was elected President each time. Billy attended children's parties in San Diego, Knoxville, Omaha, Virginia Beach, and Orlando.

Now the intensive training began, and continues. Attending Clown Camp at University of Wisconsin Lacrosse, Clown Hall of Fame classes, World Clown Association Conventions, Western Regional Clown Association Conventions, Midwest Clown Association Convention, International Face and Body Painting Convention and the Twist and Shout Balloon Twisting Conventions.
---
Billy Boy met Cuddles at a meeting of the Clown alley. She asked for his help in making some props for her show at the Circus Parade Grounds. This developed into a courtship and marriage at the Circus World Museum. His character changed into an Auguste Clown and resulted in a change of entertaining style. A new face was designed and new costumes and shoes were obtained. Cuddles and Billy now perform together full time and have become very well known and popular.

Working together they have developed a unique style of performance, Cuddles does the Face Painting,Billy does the balloons and magic at most birthday parties, daycares etc.

Cuddles can do everything Billy does but her Face Painting far out shadows everything else.